Ambient Audio Nodes
The Ambient Audio Node is a new gizmo that can be found in the Asset Library. It is a new addition to the Shadowrun Core content pack found in Shadowrun: Hong Kong.
Creating a Ambient Audio Node
[
edit
|
edit source
]
To create a new ambient audio node in your scene drag the gizmo from the asset library to the map.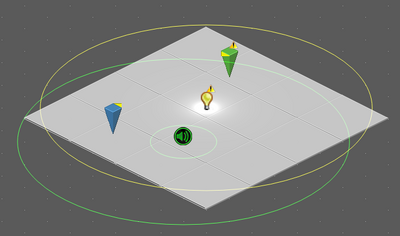 From the Properties view you'll be able to define all the small features of each node.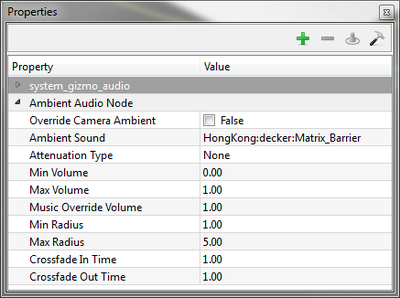 Check this property if you would like the node to override the camera region ambient audio .
How to calculate the node's volume based on the player's distance. Note that ambient audio generally only updates after the player has reached their destination, so if they are quickly moving across the area, volume may not adjust or the audio may not play at all.
Audio always plays at Max Volume whenever the player is within the Max Radius. Min Radius and Min Volume are ignored.
Volume scales linearly, starting at Min Volume when the player is at Max Radius, and gradually increasing towards Max Volume as the player approaches the Min Radius.
The audio will increase from 0 to the new volume over this number of seconds when the player enters the Max Radius, and will decrease back to 0 as the player leaves. 1 is a good value for natural sounds in the environment, while 0 is good for sounds that abruptly start such as alarms.
The drop-down for Ambient Sound includes every sound available in the game, but only a fraction of these are set up to loop properly. Below is a list of all ambient sounds used in the Hong Kong and Shadows of Hong Kong campaigns, all of which are safe to use. Others may also work, but be certain to test them.
HongKong:ambient_VicHarbor:motorcycle-loop
HongKong:ambient_VicHarbor:policesirenradio-loop
HongKong:ambient_VicHarbor:radiomusic
HongKong:ambient_VicHarbor:rain-loop
HongKong:ambient_VicHarbor:siren1
HongKong:ambient_VicHarbor:waterdock-loop
HongKong:ambient_city:cityloop
HongKong:ambient_conference:ambienceloop
HongKong:ambient_conference:conferencefloorloop
HongKong:ambient_courtyard:courtyardambience
HongKong:ambient_gobbet:oceanloop
HongKong:ambient_gobbet:rainwindloop
HongKong:ambient_grendel:arcadeambienceloop
HongKong:ambient_grendel:crowdloop
HongKong:ambient_grendel:marketloop
HongKong:ambient_grendel:rainloop
HongKong:ambient_haven:NeonBuzz
HongKong:ambient_hubexterior:rainloop
HongKong:ambient_mahjongint:mahjongint
HongKong:ambient_mcstationrun:loadingdockloop
HongKong:ambient_roomtone:roomtoneloop
HongKong:ambient_sewer:BuzzLights
HongKong:ambient_shangrila:diningambience
HongKong:ambient_shangrila:exteriorambience
HongKong:ambient_shangrila:fishtank
HongKong:ambient_shangrila:interiorambience
HongKong:ambient_shangrila:neonsign
HongKong:ambient_walledcity:rainloop
HongKong:ambient_whistleblower:waves
HongKong:props:HongKong-Hub-Club88-InStreet
HongKong:props:HongKong-Hub-Club88-MainRoom
HongKong:props:burningloop
HongKong:props:computerloop
HongKong:props:coughingloop
HongKong:props:crowdloop
HongKong:props:energydraw
HongKong:props:engineroomloop
HongKong:props:fortuneengineloop
HongKong:props:fountainloop
HongKong:props:fountainsmall
HongKong:props:generatorloop
HongKong:props:helicopterrotorsloop
HongKong:props:kitchenloop
HongKong:props:knightkings
HongKong:props:loadingdockloop
HongKong:props:lobby
HongKong:props:outdoordining
HongKong:props:penthouseambience
HongKong:props:pianopractice
HongKong:props:reliablematthewloop
HongKong:props:speedboatloop
HongKong:props:suborbitloop
HongKong:props:technoloop
HongKong:props:turbineloop
HongKong:props:underwaterloop
HongKong:props:videoloop
HongKong:props:waterspout
HongKong:props:whispersloop